5 - 7 | December 2017
Dubai World Trade Centre

In two months the leading trade fair for the horticulture in the United Arab Emirates – IPM DUBAI – will take place in the Dubai World Trade Center from December 5 to 7, 2017. Be there when the IPM DUBAI - International Plants Expo Middle East - opens its door for the twelfth time.
---

Be there! Last Call!

More than 7,000 trade visitors and decision makers from all over the world are expected to attend IPM DUBAI and its sister event WOP DUBAI - World of Perishables this year.

Secure your own stand space at the most important horticultural fair in the United Arab Emirates! IPM ESSEN exhibitors do not pay any registration fees. For full details of the fees payable and application forms, please see CLICK HERE.


DOWNLOAD APPLICATION FORM:


Excellent Booking Status!

IPM DUBAI is expected to welcome about 100 exhibitors this year!
This year 7 different countries present their products in a special pavilion. These are China, Egypt, Ethiopia, Germany, the Netherlands, India and Sri Lanka. They have already confirmed their participation, of which the Netherlands will be attending for the first time with a pavilion.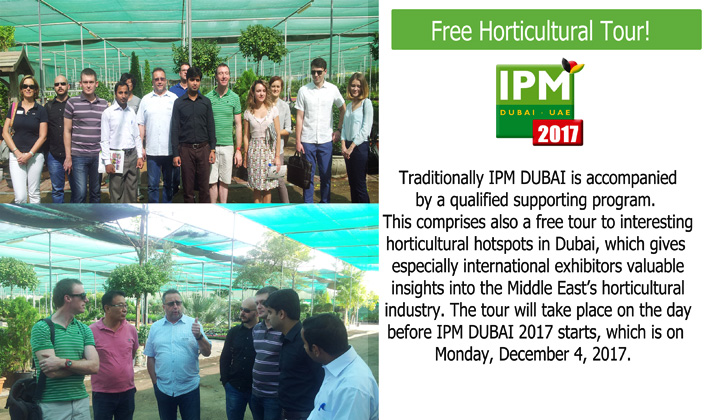 ---

Visitor's Profile of IPM DUBAI
Who will be the trade visitors attending IPM DUBAI 2017?

Decision makers will be there from the Governments of Dubai (Ministry of Municipality and Urban Planning) and the other GCC countries, local big players, various hotels and resorts, garden center and tree nurseries as well as representatives of Miracle Garden and Dubai Expo.

Visiting IPM DUBAI 2017 is the best way to get information on Middle East horticultural industry; a chance to meet eminent leaders on the market and to learn about their latest offers.



You can either:
1st

Pre-register online


2nd Register on-site at the Visitors Desk by presenting a business card or an official
Exhibition Invitation.
International Plants Expo Middle East - IPM Dubai 2017
planetfair Dubai LLC
Office No. 506, Crown Plaza | Sh.Zayed Road
PO Box 29278 Dubai, UAE
Ph. +971 43314570 | Fax.+971 43314580

|

www.ipm-dubai.com