5 - 7 | December 2017
Dubai World Trade Centre

The International Perishables Expo Middle East or WOP DUBAI 2017 is an exciting
three-day event expected to throw the spotlight on the rapidly growing and vibrant
international perishables industries in Dubai World Trade Centre on
5th to 7th December 2017.
---
MARKET OVERVIEW
LOGISTICS & COLD CHAIN
Gulf States import an estimated 5 million tons of fresh fruit and vegetables annually, with a value of over 3 billion dollars. Among the Gulf States, the most important market is the United Arab Emirates, with a share of more than 40%, followed by Saudi Arabia with more than 30%, Qatar and Kuwait, both with just under 10%, and Oman and Bahrain.
(Fruits and Vegetables report 2015 - ITC INTERNATIONAL TRADE CENTRE)

According to UN Comtrade, a repository of social trade statistics and relevant analytical tables, showing that the United Arab Emirates is ranked Number 1 in the importation of fruits and vegetables among Arab and GCC countries and ranked 16th internationally.

The repository, which contains both annual and monthly trade statistics, showed that the country has imported over Dh12.6 billion (US$ 3.4 billion) worth of fruits and vegetables in 2015 - US$ 8.1 billion worth of fruits and US$ 4.5 billion worth of vegetables.

According to UN Comtrade TRADE MAP the top exporters of fresh fruits and vegetables to the UAE are the United States that comes first then India, South Africa, Philippines, Australia, Egypt, Spain, France, Italy and Chile.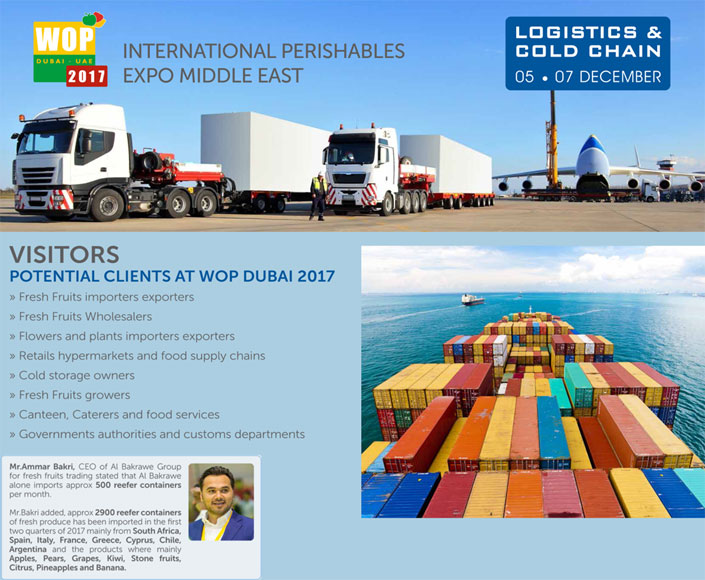 ---

Visiting WOP DUBAI 2017 is the best way to get information on Middle East fresh produce industry; a chance to meet eminent leaders on the market and to learn about their latest offers.



You can either:
1st

Pre-register online


2nd Register on-site at the Visitors Desk by presenting a business card or an official
Exhibition Invitation.
---

FRUITNET FORUM MIDDLE EAST

Get in early and join Fruitnet Forum Middle East, a brand new networking and conference event, held on 4 December, the day before WOP Dubai starts.

Designed to promote new business opportunities, the forum brings you fresh insights into the most important market trends and market drivers in the Middle East. Fruitnet Forum Middle East is organised by Eurofruit, the official media partner of WOP Dubai.

Read more ...
International Perishables Expo Middle East - WOP Dubai 2017
planetfair Dubai LLC
Office No. 506, Crown Plaza |Sh.Zayed Road
PO Box 29278 Dubai, UAE
Ph. +971 43314570 | Fax.+971 43314580

|

www.wop-dubai.com